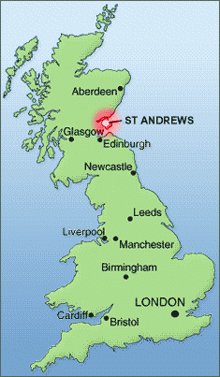 1. Travelling by Car
From Edinburgh take the A90 to the Forth Road Bridge. The bridge has a toll that costs 80p for a private car in the northbound direction. Cross the bridge and proceed north along the M90 to Junction 8, and take the A91 to St. Andrews. Follow the A91 through Cupar following the signs to St. Andrews. There are useful maps including interactive versions at
2. By train from London and/or Edinburgh
The nearest British Rail station is Leuchars Junction (5 miles) on the main line from London Kings Cross and Edinburgh to Dundee and Aberdeen. However there are only three direct through trains from London each day, so participants may have to change at Edinburgh Waverley.

The complete UK rail timetable and fares are accessible from the National Rail website below. The UKs train operators provide full details of their services online.
3. By air to Edinburgh Airport
Participants may have to change in the UK on the journey to Edinburgh/St. Andrews. The main internal flights to Edinburgh are from Birmingham, London Gatwick, London Heathrow, London Stansted, London Luton, London City and Manchester.

There are direct flights to Edinburgh from several European airports including Amsterdam, Brussels, Copenhagen, Dublin, Frankfurt, Paris and Zurich.
4. From Edinburgh Airport
Taxis operating from the terminal take about 20 minutes to reach the city centre and cost about £20. Airlink bus services (Bus #100) operate every 10 minutes from the terminal to the City Centre terminus at Waverley Bridge, situated above Edinburgh Waverley station. The journey takes about 25 minutes and costs £3.30 single and £5.00 for an open return. (If you have time to spare, your ticket also entitles you to a £1 reduction on a City Sightseeing Edinburgh Tour bus. You can also buy an Airsaver ticket for £4.20 that also gives you unlimited travel on Lothian transport buses for a day.).
5. By air to Glasgow Airport
Although Glasgow Airport is much further from St. Andrews than Edinburgh Airport, it has some transatlantic flights that can make it a convenient destination, avoiding the need to change in London. There are direct flights into Glasgow Airport from Chicago, Gothenburg, Halifax, New York, and Toronto with five other US destinations via Reykjavik with Icelandair.
6. From Glasgow Airport
There is a Scottish CityLink airport coach service from the terminal forecourt to Buchanan Street Bus Station in Glasgow, taking 20 minutes and this costs £3 single and £5 return. Taxis to Glasgow City Centre cost about £20.

From Buchanan Street Bus Station there are connecting express coach services to central Edinburgh. The fare is £4. The Edinburgh central bus station is within easy walking distance of Waverley Bridge and Edinburgh Waverley railway station.

Participants may prefer to alight from the Scottish CityLink airport service at North Hanover Street for Glasgow Queen Street main railway station. There is a Scotrail service, leaving every 15 minutes, from Glasgow Queen Street to Edinburgh Waverley. The journey time to Edinburgh is 49 minutes and single costs about £7. There are connecting rail services from Edinburgh Waverley to Leuchars for St. Andrews (see Section 3) that take about 60 minutes.
7. By coach from London
There are inter-city express coaches operating between most major cities in England and Scotland. Coaches from London operate mainly from London Victoria Coach Station, although some services pick-up at London Heathrow Central Bus Station. The journey is about 8-9 hours as opposed to about 5 hours by train. Tickets vary in price but cost round £40.00 return. Services from London to Edinburgh, and Dundee are available. There is a National Express internet booking service at
8. Accommodation before the Conference
Those wishing to arrive before August 21 or wishing to extend their stay after the School will have to make their own arrangements. Accommodation in Edinburgh and St. Andrews can be booked through the appropriate Tourist Information Centres.
The Edinburgh & Lothians Tourist Board has an information centre above Edinburgh Waverley railway station. You can book accommodation and tours via email
http://www.edinburgh.org
Tel: 0044 131 473 3800
University of Edinburgh Halls of Residence accommodation can be booked via Edinburgh First at
http://www.edinburghfirst.com/
mailto://group.accommodation@ed.ac.uk
Tel: 0044 131 651 2184
The Edinburgh International Arts Festival runs from August 4 to September 4, the Edinburgh Festival Fringe runs from August 5 to August 29, and the Edinburgh Military Tattoo runs from August 5 to August 27 so accommodation in Edinburgh will be in great demand during these dates.
http://www.edinburghfestivals.co.uk
http://www.edfringe.com

There is a tourist information centre in Market Street in St. Andrews at
St Andrews Tourist Information Centre
70 Market St, St Andrews, KY16 9NU
Tel: 01334 472021
Fax: 01334 478422