The following events are being arranged...
Tuesday August 18: Whisky Tasting
8.00p.m. Parliament Hall, University of St Andrews
We'll tak a cup of kindness yet - the story of Scotch whisky
David Wishart, School of Management
Discover the flavours of Scotch malt whiskies at this talk and tasting by Dr. David Wishart, Honorary Fellow of the School of Management and author of Whisky Classified: Choosing Single Malts by Flavour. Dubbed the "Carl Linnæus" of whisky by fellow writer Charles Maclean, David Wishart was the first to categorise single malt whiskies by flavour.
His classification - an example of a taxonomy of malt whiskies - is fully endorsed by the Scotch Whisky Industry, which honoured David by designating him "Keeper of the Quaich" in 2006.
David will guide you through the history and romance of Scotch whisky, from the aqua vitae of the early monasteries, the alchemist's art of turning barley into liquid gold, and the hedonistic uisge beatha of remote Scottish crofts, to the taverns of the Royal Mile and hot toddies in Edinburgh's New Town.
Whisky is evoked in the poetry of Burns, in the travelogues of Stevenson, and in the art of Landseer and Wilkie. London toasted with brandy in the Regency period, but when a tiny phylloxera beetle devastated Cognac in 1863 the upper classes turned to whisky and the famous "Scotch" brands were born.
Today, the flavour of malt whisky is more diverse than ever, due to the influence of variable peating, cask preparation, extended maturation, and special finishing. David describes his unique scientific method of classification by flavour based on sensory analysis and profiling, with a selection of fine single malt whiskies to taste.
He has chosen some well-known favourites for his tasting, plus a couple of malts that are harder to find. They span the "flavour spectrum", the complete range of flavours of single malt whiskies as described in David's book "Whisky Classified". For tonight's tasting in Parliament Hall, he will be featuring Aberlour, Ardmore, Balvenie, Ben Nevis, Benromach, Bunnahabhain, Deanston, Edradour, Glencadam, Glenfarclas, Glenfiddich, Glengoyne, Glenlivet, Highland Park, Laphroaig, Ledaig, Loch Lomond, Macallan, Scapa, Smokehead, Strathisla, Tobermory, Tomatin, Tomintoul and Tullibardinesingle malt Scotch whiskies.
Further information at: www.whiskyclassified.com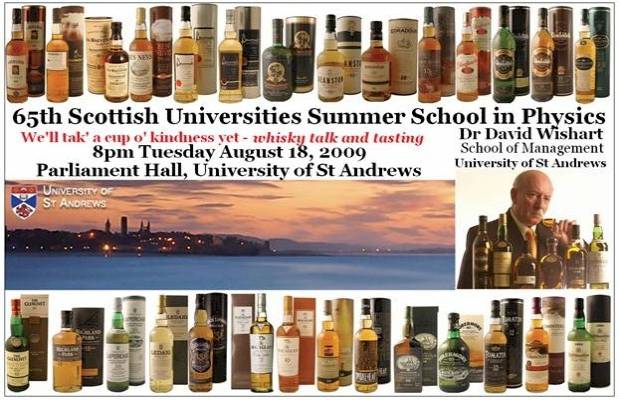 Wednesday August 19: Excursion: Falkland Palace
Departing 1.45p.m. from John Burnet Hall
Falkland became a Royal Burgh in 1458, when the Royal Palace of Falkland was so named by King James III. Falkland was the hunting-place of the Stuart kings and queens, and dates from around 1450. Mary, Queen of Scots spent some of the happiest days of her tragic life 'playing the country girl in the woods and parks'. The Palace was built by James IV and by James V between 1501 and 1541. It replaced earlier castle and palace buildings dating from the 12th century, traces of which can still be seen in the grounds. The roofed South Range contains the Chapel Royal, and the East Range the King's Bedchamber and the Queen's Room, both restored by the National Trust. The Keeper's Apartments in the Gatehouse are also on display. The palace contains fine portraits of the Stuart monarchs and two sets of 17th-century tapestry hangings. The garden, designed and built by Percy Cane between 1947 and 1952, contains three herbaceous borders enclosing a wide lawn with many varieties of shrubs and trees. Here also is the original Royal Tennis court the oldest in Britain still in use - built in 1539. There is also a small herb garden border featuring quotations from John Gerard's book Herball (1597)
For more information see the National Trust of Scotland site
If you have time, you are recommended to sample Scottish home baking in Kind Kyttock's Kitchen at Cross Wynd in Falkland.
Saturday August 22: Visit to Edinburgh and the World's largest arts festival
Departing 1.15p.m. from John Burnet Hall
A coach will take you from St Andrews to Edinburgh , to have a free afternoon at the famous International Edinburgh Arts Festival and Edinburgh Fringe Festival. The coach will set passengers down as near as possible to Princes Street, which is ideal both for shopping and sightseeing. An Edinburgh sightseeing map will be provided. From Princes Street it is only a short walk to the Scott Monument, Princes Street Gardens, Edinburgh Castle and the Palace of Holyroodhouse.
You can soak up the atmosphere during the Edinburgh International Arts Festival and the Edinburgh Festival Fringe and book yourself to one of the dozens of events that will be on show that day.
You may also just want to have a drink and/or dinner at one of Edinburgh 's excellent pubs or restaurants.
The coach will depart from Edinburgh at approximately 11.00 p.m. and return directly to John Burnet Hall.
Sunday August 23: Excursion: Dunnotar Castle and Glamis
Departing 9.00a.m. from John Burnet Hall
A full day coach excursion, beginning with a visit to the spectacular Dunnotar Castle . This formidable stronghold stands on an isolated crag 160 feet high, two miles south of Stonehaven. It was built between the 14th and 16th centuries, and is approached from the landward side by a narrow rocky gorge. In 1297 William Wallace stormed Dunnottar and is alleged to have burned to death the entire English Plantaganet garrison. Franco Zefferelli used Dunnottar as the location for his film Hamlet (1990). The castle does not have a dedicated web-site but is a popular place for visitors. Descriptions and photographs can be seen at
After lunch we will visit Glamis Castle which is the home of the Earls of Strathmore and Kinghorne, and has been a royal residence since 1732. The castle is the legendary setting for William Shakespeare's play Macbeth.
Sunday August 23: Excursion: A Hike in the Hills
Departing 9.00a.m. from JBH
Scotland hosts some very fine mountains and when the weather is fine (!) the views are splendid.
As an alternative to Glamis and Dunnotar Castle, a hike up one of the hills at the very southern end of the Cairngorm plateau will be arranged. The Plateau itself extends for some 30 square miles at around 900m, and at its northern end is one of Scotlands few skiing resorts. The walk will be of about 3-4 hours duration and we will climb around 750 metres (2000 feet). Naturally the hike will end with essential carbohydrate replacement in a pub.

Requirements:

Those choosing to do this activity should be comfortable with hiking at the level of approx 10km distance and a height gain of around 750 metres. This is scotland, and the weather can easily turn bad therefore it is essential to come prepared with:
A waterproof and windproof jacket and a hat.
A warm underlayer (e.g fleece)
Footwear suitable for moderate mountain paths.
Tuesday August 25: School Ceilidh
7.30p.m. John Burnet Hall
An evening of Scottish music and dancing — a traditional Scottish Ceilidh (pronounced "Kaylee"). Music will be provided by the Eden Ceilidh band, a local band based in Cupar. The dancing will be led by the Dunedin Dancers, a Scottish Country Dance Group based in Edinburgh, Scotland, but with members throughout the UK and overseas. They will be demonstrating Scottish and highland dancing, and afterwards will be helping participants in the traditional dances of a Scottish Ceilidh.
Friday August 28: School Banquet
7.00p.m. John Burnet Hall
A special evening — a short reception followed by a celebratory School Scottish Banquet — including the traditional address to the Haggis.