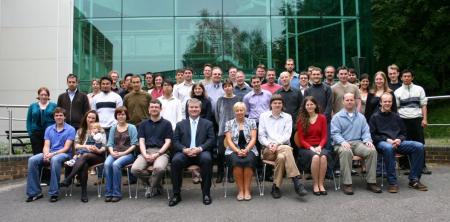 The IPPP has received a new ten-year grant from the Science and Technology Facilities Council (STFC) to continue its world-class research into some of the Universe's greatest secrets such as the mysteries surrounding antimatter and dark matter, the possibility of extra space-time dimensions and the existence of the elusive Higgs boson. 
The IPPP is funded in partnership between the STFC and Durham University and the new grant will be enhanced by increased investment from the University. Durham University's increased investment will provide an extension to the Ogden Centre, which houses the IPPP, massively upgraded computer facilities and new permanent academic appointments. It will also mean additional research positions and further funding for workshops, visitors and travel to support the wider UK phenomenology community.
Since its creation in 2000, the IPPP has been a tremendous success and has revitalised phenomenology in the UK.
Professor Nigel Glover, Director of the IPPP, said: "The IPPP has already won an international reputation for its research into particle physics.
"The new funding from STFC, together with the new investment from Durham University, will ensure that UK particle physics continues to thrive and play a pivotal role in large, ground-breaking experiments such as the Large Hadron Collider. It will also help the UK prepare for and contribute to the design and planning of physics programmes at future new facilities."